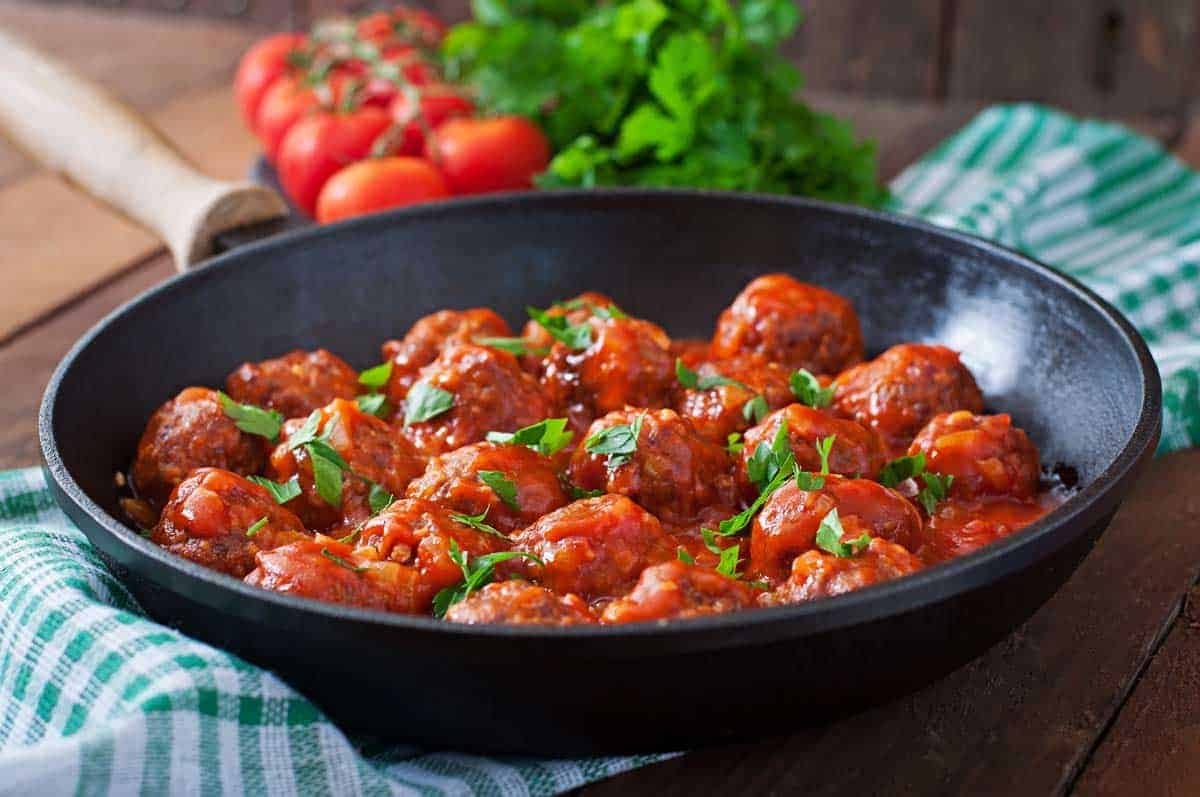 Meatballs in tomato sauce have been historically consumed by the upper classes, since they're considered as a very elegant dish.
Nowadays, they have become in one of those traditional recipes that are never old-fashioned.
Meatballs in tomato sauce are had almost everywhere in the world, and, depending on the country, they're used to accompany a vast variety of dishes such as pasta, rice, potato puree, salads, lentils and many others.
How to make meatballs in tomato sauce?
They consist basically in ball-shaped ground meat, approximately golf ball sized.
The meat used for the elaboration of this recipe varies according to the culture. In Mexico, for instance, they usually make them with pork, whereas in Venezuela they're made with seasoned beef.
The truth is that these days you may find recipes for more than 80 variants of meatballs; nevertheless, whatever kind of meat is used for the elaboration, the way of preparing them is practically the same in all cultures.
This is why we've wanted to bring you a generous recipe that with certainty will make you triumph when surprising and pleasing your guests.
Its preparation is very simple, the only trick we can give you to get it perfect consists in using good quality meat and tomatoes.
Meatballs in tomato sauce recipe
All you need to know to prepare delicious meatballs in tomato sauce, perfect to accompany spaghetti, rice and many other dishes.
Prep Time

15 min

Cook Time

45 min

Total Time

1 hr

Yield

1 Recipient

Serving Size

50g

Energy

172 cal
Ingredients
½ a kilogram of ground meat, or cut into small pieces (it can be veal, beef or fish)
An egg
1 ½ onion (medium-sized)
4 garlic cloves
2 teaspoons of oregano
1 ½ teaspoon of parsley
1 teaspoon of ground black pepper
A cup of breadcrumbs or flour
2 bay leaves
3/4 of a cup of olive oil
5 ripe tomatoes
Salt as desired
Prepare homemade Meatballs in tomato sauce
1
First, put the meat that was cut into small pieces (or the ground meat) into a bowl and start seasoning it with 2 garlic cloves, an onion, 1/2 teaspoon of black pepper, 1 teaspoon of oregano and salt.
2
Mix all the ingredients and then add the entire egg. Stir well and use a fork to be sure the ingredients season the meat evenly.
3
Once they're mixed, take a small portion of this mixture with the palm of your hand and give it a small and round shape.
4
Put the breadcrumbs or the flour on a plate and pass each one of the small balls of meat you made through the plate so they're completely covered.
5
Place a frying pan on the stove and pour the olive oil. Add the meatballs and fry them until they're golden brown on all sides.
6
Once they're fried, put them on a plate and in the meantime prepare the tomato sauce.
7
To do so, put in a blender: the tomatoes, a tablespoon of olive oil, 1/2 teaspoon of pepper, 2 garlic cloves, half an onion and some parsley leaves.
8
Blend all the ingredients well and afterwards drain the resulting mixture into a container. Add the bay leaves and pour it onto the frying pan on low heat for about 15 minutes.
9
Once this time has passed and the sauce has thickened and has a stronger consistency add the fried meatballs and let it cook for 20 more minutes.
10
Remove from the stove and enjoy.
Nutrition Facts

6 servings per container

Serving Size

50g

Amount per serving

Calories

172

% Daily Value*

*Percent Daily Values are based on a 2,000 calorie diet. Your daily values may be higher or lower depending on your calorie needs.