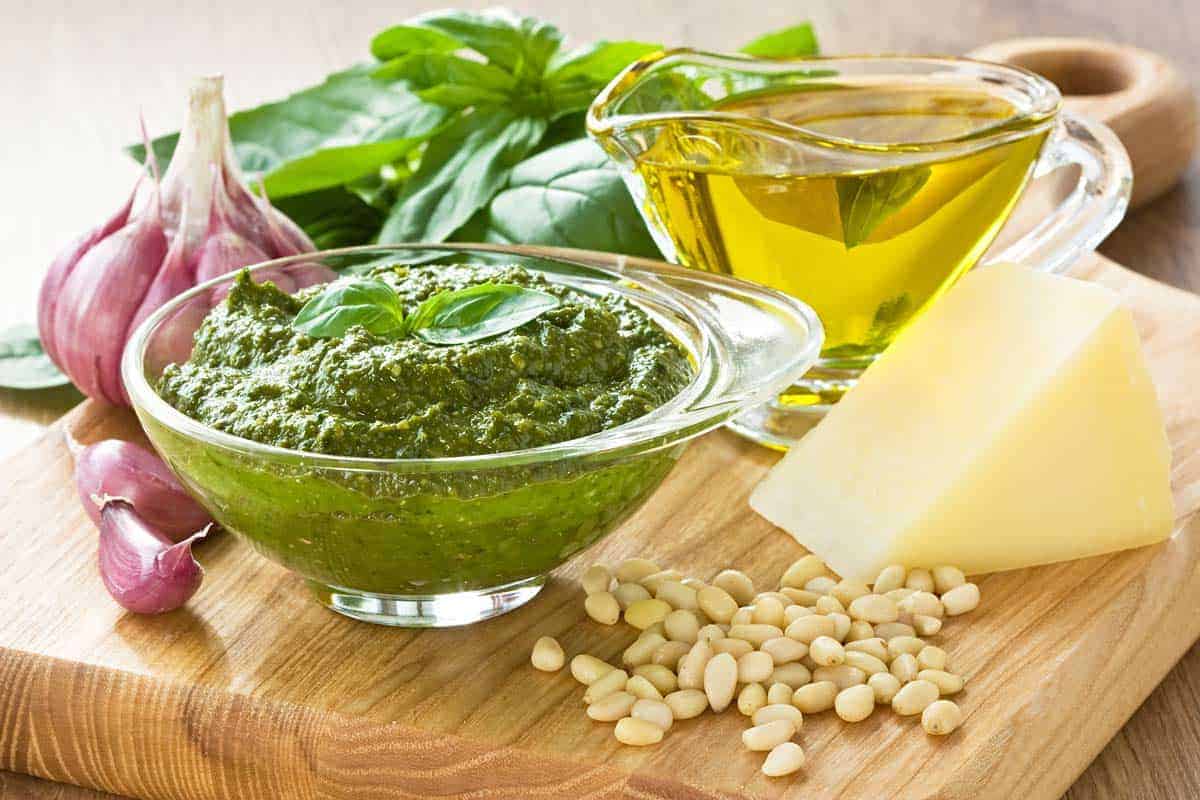 Have you tasted pesto sauce? If you are a lover of Italian cuisine, Genovese pesto is a classic you will certainly love.
Its aromatic and light flavor is the protagonist of an endless array of recipes, it is not a coincidence that it has become a favorite inside and out of Italy.
Pesto sauce is usually used for pasta, especially macaroni, noodles, lasagna and spaghetti.
Nevertheless, it is used a lot in dishes made of fish and meat, because they match perfectly with certain ingredients, and it is even the key ingredient in minestrone soup.
As with every good recipe, it is not strange that variants of it have been created all over the world, like one using tomatoes and peppers.
But on this occasion we will be talking about the authentic one, a basic preparation that has revolutionized gastronomy worldwide.
What is the origin of pesto sauce?
The origin of this sauce is not 100% known; the first references about its beginnings come from the time of the Renaissance.
It all started in the Italian region of Liguria; pesto is identified as a seasoning or typical sauce from Liguria, the cradle of aromatic herbs.
It is said that it spread to the rest of Italy from the Genovese port, due to the great number of ships that arrived and departed from that port daily.
In time its popularity grew, first in France and then in the rest of the world.
The authentic pesto sauce recipe was first described in the book Cuciniera Genovese, written in 1863 by Giovanni Battista Ratto.
This is the pioneer mention of the contemporary preparation of true pesto, very popular and loved.
How to Make Pesto Sauce?
As a symbol of Italian lust, the authentic pesto sauce depends 100% on the  quality of its ingredients, which must be fresh and very aromatic.
The term pesto comes from the Genovese "pestare", which means "crush" or "grind in a mortar".
The name of the sauce comes from here, not because of the ingredients it uses, but, in fact, the traditional way of preparing it.
If it is done in a different way, the act is considered an offence by the Italians who are very attached to the authentic preparations of their gastronomy.
On the other hand, when we talk about the ingredients for the pesto sauce, basically we refer to fresh species accompanied with cheese and olive oil to strengthen its flavor.
Basil is the principal ingredient of pesto sauce, and in order to get its authenticity it must be the fresh and tender leaves of Genovese basil, a special variety of Italian origin.
Why does this kind of basil have to be used and not another? Simple, because if we use bigger leaves or another variety of basil, its flavor changes a lot, tending to be more of a minty flavor, less strong and aromatic.
Another important ingredient to prepare pesto sauce is the garlic, especially Vessalico garlic, which has a lighter flavor and comes from an Italian region as well.
These two previous ingredients are ground with nuts; those that come from Pisa work excellently.
Lastly, they are mixed with extra virgin olive oil, sea salt and Parmesan cheese or pecorino cheese, which are the kinds of cheeses used to prepare pesto sauce.
The kind of cheese depends on the region the sauce is prepared, although in several places both of them are mixed.
The result must be a more or less liquid sauce, which can be perfectly kept frozen.
Of course, the best way of tasting and enjoying its strong flavor is just after finishing its preparation, which also gives a divine smell to our dishes.
Pesto Sauce Recipe
Know the secret to prepare the authentic pesto sauce recipe, one of the traditional preparations most used and appreciated in Italian cuisine.
Prep Time

10 min

Total Time

10 min

Yield

1 Recipient

Serving Size

10g

Energy

384 cal
Pesto Sauce Ingredients
1 cup of fresh small Basil leaves
1 garlic clove
1 teaspoon of toasted nuts
¼ cup of olive oil
¼ cup of Parmesan or pecorino cheese
A pinch of sea salt
How to prepare the homemade pesto sauce
1
Start by cleaning the basil leaves well and drying them using absorbent paper to eliminate extra water.
2
Then, crush the basil in a mortar bit by bit, first breaking them with your hands and adding a pinch of salt until they are well-crushed.
3
The next step is to chop the garlic in pieces and add it to the mortar along with the nuts, keep crushing in order to get a homogenous mixture.
4
Add the cheese and mix it well before moving forward to the last step, which is to add the olive oil. Mix everything well using a spoon. Now our pesto sauce is ready.
Nutrition Facts

4 servings per container

Serving Size

10g

Amount per serving

Calories

384

% Daily Value*

*Percent Daily Values are based on a 2,000 calorie diet. Your daily values may be higher or lower depending on your calorie needs.