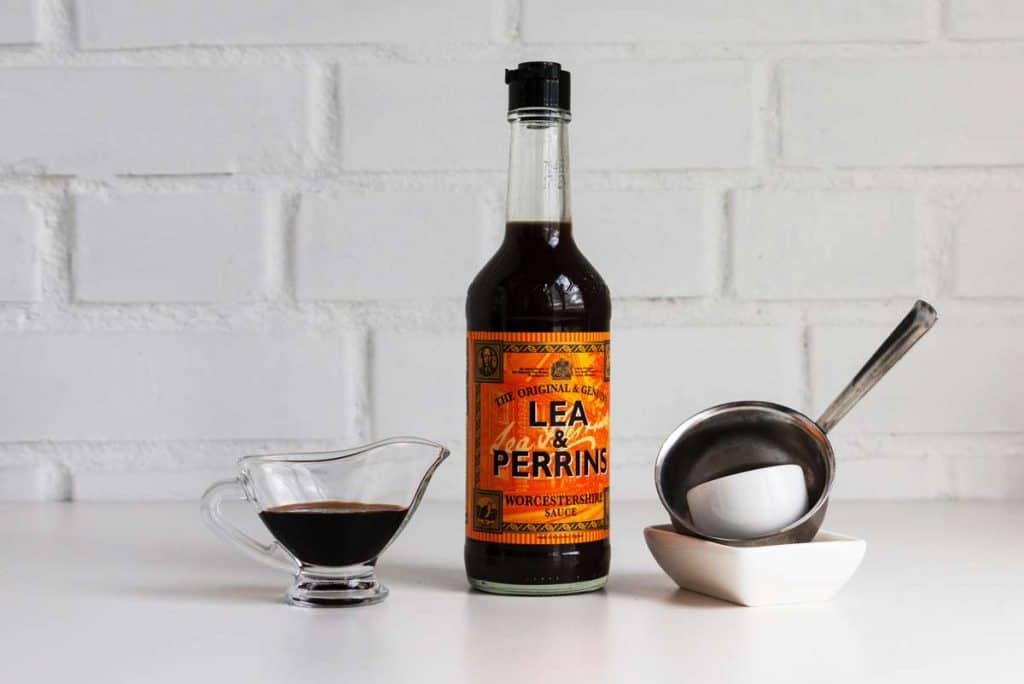 The English sauce is also known as Worcester or Worcestershire sauce, and nowadays it is also known for the Perrins brand.
It has a peculiarity that differentiates it from the rest, that it is not only used to accompany dishes, but also as a condiment, even to prepare other types of sauces.
The liquid and fermented composition of this kind of English sauce makes it perfect to be served with both cooked and raw foods, especially beef, as it is used in British cuisine.
History of Worcestershire sauce
Certainly many have already deduced that the history of Worcestershire sauce has its particular charm, which in fact happens in almost all legends when it comes to recipes.
And of course, it is totally true; this tasty dressing is the result of a fortuitous event during the 1830s, when the Governor of Benegala of that time (Lord Marcus Sandys) asked his cook in India the recipe of the sauce he always used to accompany the meals.
The then-former Governor took with him the note that contained everything needed to prepare this magic sauce, as he used to call it, on his trip back to England.
So he went to the pharmacy of Jonh and Willians, and instructed them to make the recipe without missing a single ingredient.
Once they did, the druggists took a little to taste it and the rest they kept in a jar for Lord Marcus, but he never returned to the pharmacy.
For Jonh and Willians the flavor of that sauce was nothing extraordinary, so they decided to get rid of it, but instead of throwing it away, they left it in some corner of their basement and completely forgot about it.
After a while, while reorganizing the place, they found the abandoned and dusty barrel that contained the sauce they had prepared, so they decided to try it again and to their surprise, what their palates felt this time was a delicious slightly spicy seasoning.
This is how the real Worcestershire sauce arose, in 1835, after English pharmacists accidentally left it to ferment for two years.
Without thinking twice, they concluded that if they produced it on a large scale it would be a total success and no doubt they were right.
Therefore, in 1838 they began to market it under the name of Lea & Perrins Worcestershire Sauce.
At present, Worcestershire sauce continues to be manufactured with the original recipe, and lasts about 18 months fermenting in wooden barrels before going to the market.
It is highly valued worldwide and without a doubt it is a product that all chefs, both professional and amateur, wish to have.
Worcestershire sauce ingredients
Although the authentic English sauce recipe remains a mystery, (except for a few people worldwide) we know that many of the ingredients used for its preparation are:
Malta vinegar
Molasses
Corn syrup
Water
Peppers
Soy sauce
Tamarind
Anchovies
Onion
Chaloras
Garlic
Clove
Spices
Recipes using Worcestershire sauce
Because it is considered a liquid seasoning, Worcestershire sauce can be used in the preparation of an endless array of recipes.
From stews, vinaigrettes, salads, meats and all kinds of exotic food; and it can be even used in the preparation of other sauces.
Its slightly spicy flavor and extraordinary spicy aroma has become so popular that it is not only coveted in British cuisine, but throughout Europe, Asia and the rest of the world.
For example, in Mexico this sauce is used to season the Clamato and La Michelada; while in El Salvador, it is used as a complement to elotitos, nachos, jalapeños, tortrix, besides some fruits such as green mango, jicama and jocotes.
On the other hand, in Costa Rica it is served alongside tamales and in Venezuela with scrambled eggs, stewed chicken and other meats.
There are also variations of Worcestershire sauce in Asia, with the difference that some of them change in terms of sweetness and vinegar, such as those used in Japan to enhance the umami flavor and those are better known as ustasosu, okonomiyaki, yakisoba and tankatsu.
In the Philippines it is widely used for the marinade of pork; while, at the other extreme, in Argentina, it is used for veal.
In addition, it is delicious when served with hamburgers, as in the United States and Canada.
The truth is that with this sauce you can prepare multiple recipes depending on each culture and tradition.
There are also other variants known as Crosse & Blackwell English Sauce and Maggi English Sauce, used in the marinade of all types of meats.
How to Make Worcestershire Sauce
Homemade Worcestershire sauce contains a variety of nuances and flavors very similar to the original.
And as the vast majority does not know what ingredients the authentic Worcestershire sauce has, since its formula is secret, we have chosen to prepare some variants of it at home so you can also cook other delicious recipes.
So, if you still do not know how to make homemade Worcestershire sauce, then we detail the step-by-step instructions so you can make it when you'd prefer in the comfort of your home.
We assure you that the result will be sensational and very pleasant to the palate of everyone who tries it.
Remember that there are many more homemade variants, this is just one of them and we have selected it because its flavor is light, delicious and aromatic, it is also very simple-to-make despite the diversity of its ingredients
Worcestershire sauce
Worcestershire sauce, one of the favorites to marinate meats and salads. Know everything about it, we also teach you how to prepare the homemade recipe in the simplest way.
Prep Time

5 min

Cook Time

25 min

Total Time

30 min

Yield

1 Recipient

Serving Size

10g

Energy

78 cal
Homemade worcestershire sauce Ingredients
1 onion
2 garlic cloves
2 anchovies
125 milliliters of molasses
125 milliliters of soy sauce
500 milliliters of white vinegar
250 milliliters of water
3 teaspoons of grained mustard
1/2 tablespoon of cinnamon powder
1/2 tablespoon of black pepper
1/2 tablespoon of cardamom
1/2 tablespoon of clove
1/2 tablespoon of curry powder
1 grated ginger tip
A pinch of salt
How to prepare Homemade Worcestershire Sauce
1
The first thing we will do is to crush the garlic and the onion well, if you do not have a chopper you can do it perfectly by hand using a knife.
2
Then place the garlic and the onion in a pot on medium heat and sauté a little, add the soy sauce, the mustard, the pepper, the cinnamon, the cloves, the molasses, the vinegar and the salt.
3
Stir so all the ingredients can be well-integrated and add the grated ginger tip.
4
Meanwhile, we crush the anchovies in a mortar, along with the curry and dilute it in some water before pouring it into the pot with the rest of the mixture.
5
We lower the heat and cook for about 20 minutes to reduce it while stirring, thus preventing it from sticking.
6
Finally, we strain the sauce and pour it into a glass container, let it stand at room temperature for a minimum of two weeks, stirring it several times during this period.
Nutrition Facts

30 servings per container

Serving Size

10g

Amount per serving

Calories

78

% Daily Value*

*Percent Daily Values are based on a 2,000 calorie diet. Your daily values may be higher or lower depending on your calorie needs.